7B10.50 X-ray Line Spectra Model
Drop small steel balls on an overturned cake tin to illustrate continuous spectrum and superposed line spectrum.
Electrons falling on a metallic target excite an x-ray spectrum that consists of a continuous background and a superposed line spectrum. This situation may be illustrated by dropping small steel balls or lead shot from various heights onto the bottom of an over- turned pie or cake pan. As the balls are poured down, one hears a noise background (continuous spectrum) superposed on which is a note of recognizable pitch (line spectrum) characteristic of the shape, size, and material of the pan. Several different pans will have different frequencies accompanied by a similar noise background.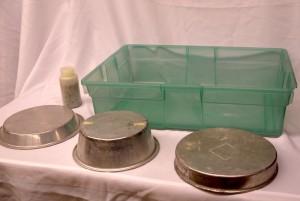 Location: Pans: Q2-3, BBs: D2-4
Use a catch pan.